The heart of our program is the Court Appointed Special Advocate (CASA), a specially trained and supervised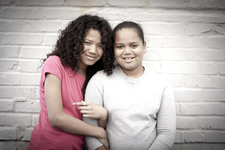 community volunteer, appointed by the judge. Research shows that just one consistent, stable, and healthy relationship significantly improves adult outcomes for foster children.
For nearly two decades, our mission continues to be to advocate for abused and neglected children in the foster system ensuring their voices are heard and their needs are met through our CASA volunteers. Our vision is to champion without compromise for the best interest of EVERY one of our 400-plus foster children in Yolo County through our goal of providing them all with a CASA volunteer.
We service our mission and will achieve our vision through our diverse constituents, whom we call our "Hearts of Yolo." Some of these constituents become CASAs and are the cornerstone of our organization. Others choose to help lead Yolo County CASA into the future by becoming members of boards of committees. Many choose to provide financial support to Yolo County CASA through regular donations. And finally, some constituents champion for our cause by spreading the word about our need for CASAs and funding for their training and support. ALL of these constituents are needed to come together and give a neglected and abused child the chance at a better life.